The world's most complete AI hiring platform
Scale your team and hire great people, supercharged by AI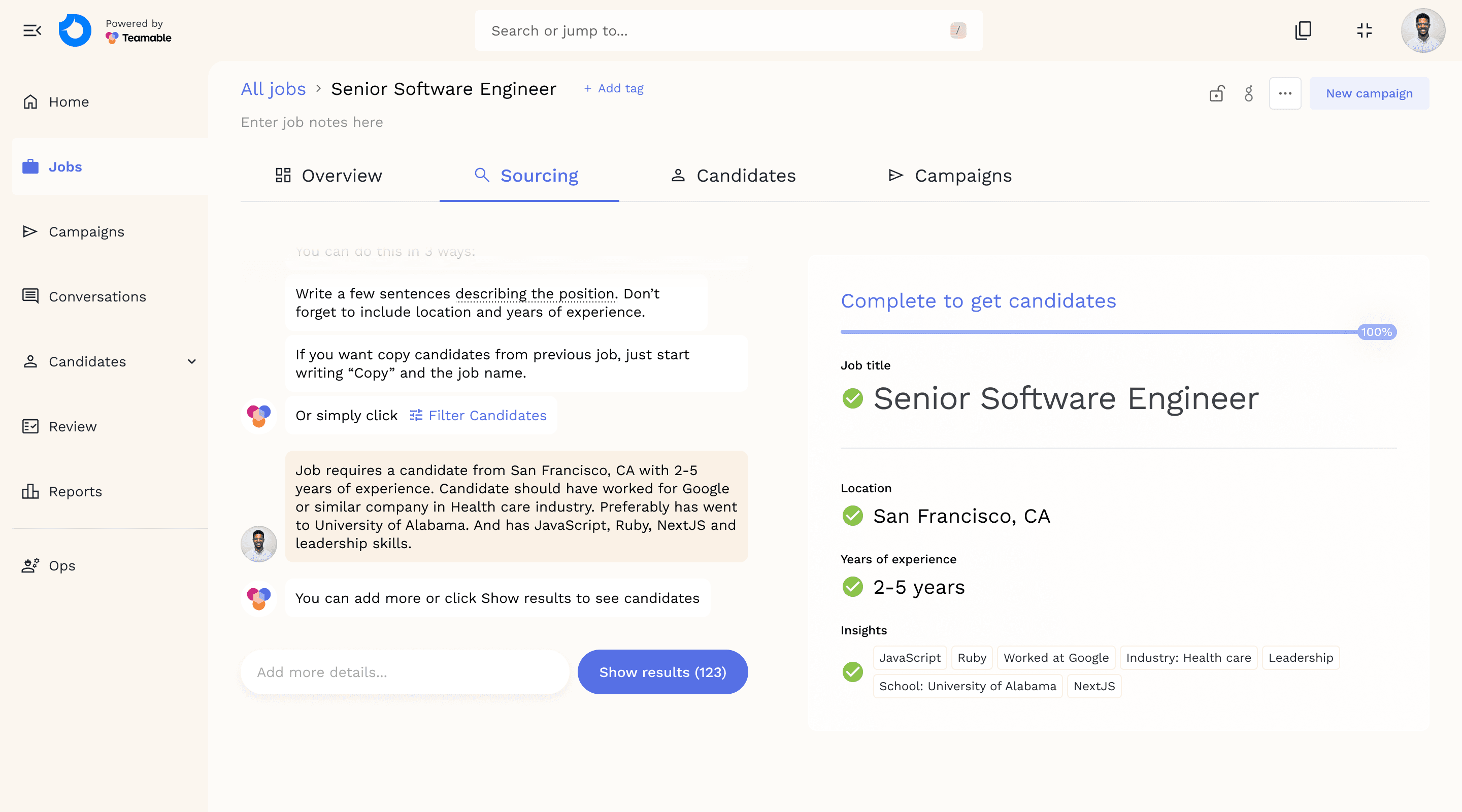 Full stack recruiting with Teamable AI
Teamable AI understands candidates on a deeper level, surpassing simple keyword or Boolean searches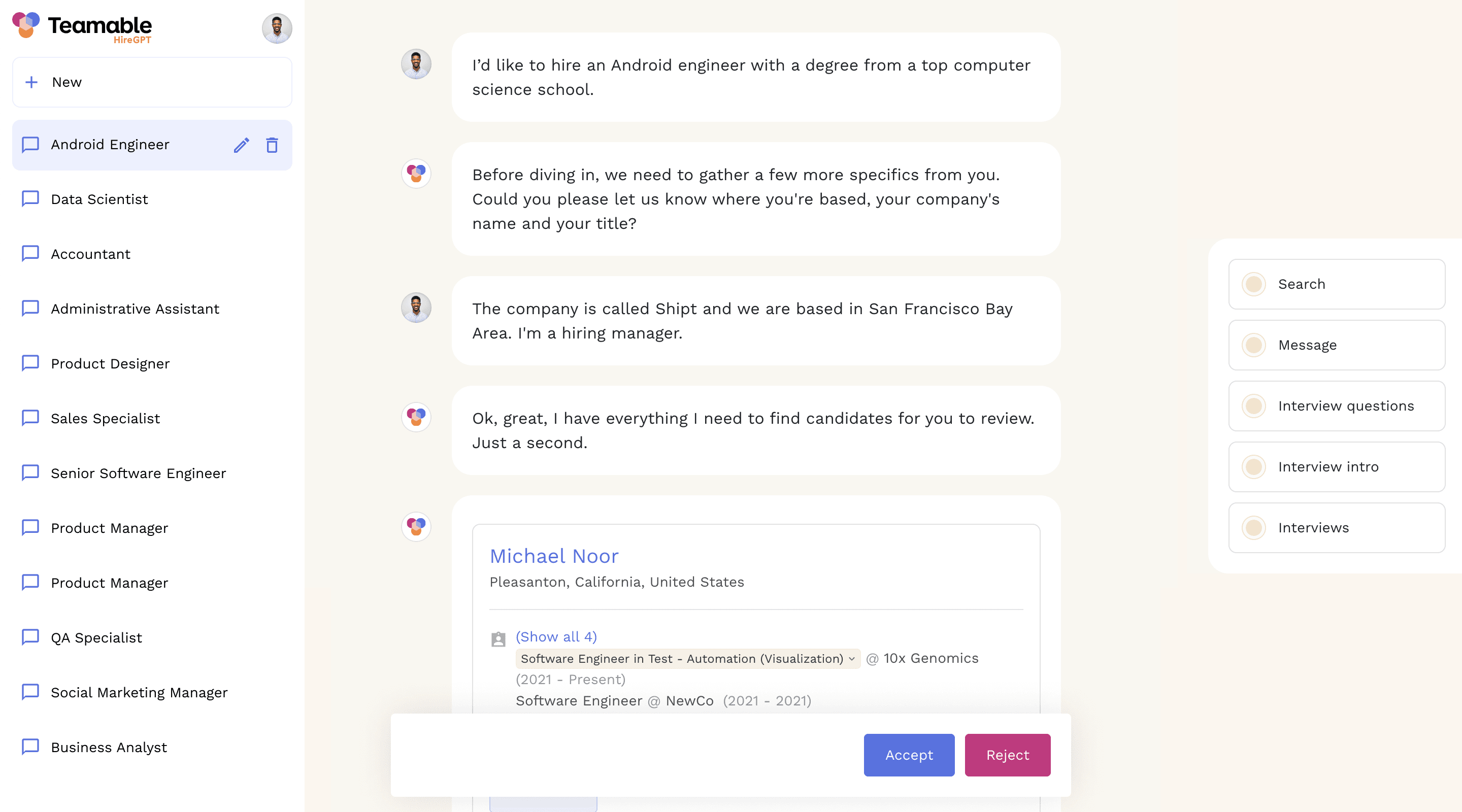 Build AI-driven searches across the web. Teamable's unique AI understands where to find candidates.

Compose custom messages to candidates based on the job description, company information, and millions of recruiting conversations.

Candidate replies are automatically detected and routed to the right place, delivering timely followup so you can win the best talent.
See your entire pipeline in one place
Intelligently consolidate all your sourcing channels. Teamable AI combines your entire funnel into a unified view, highlighting the ideal candidates in your ATS, employees' networks, and your talent pools within our CRM.
Prioritize best matches: Harness the power of Teamable AI as it intelligently learns from who you source and how they progress through your ATS to surface more ideal candidates.

Effortlessly manage candidates within your ATS: Easily search and nurture candidates. Analyze past outreach performance so you can connect in the right way, at the right time.

Unleash employee referrals at scale: Transform your company's network into a searchable talent pool to leverage employee referrals efficiently.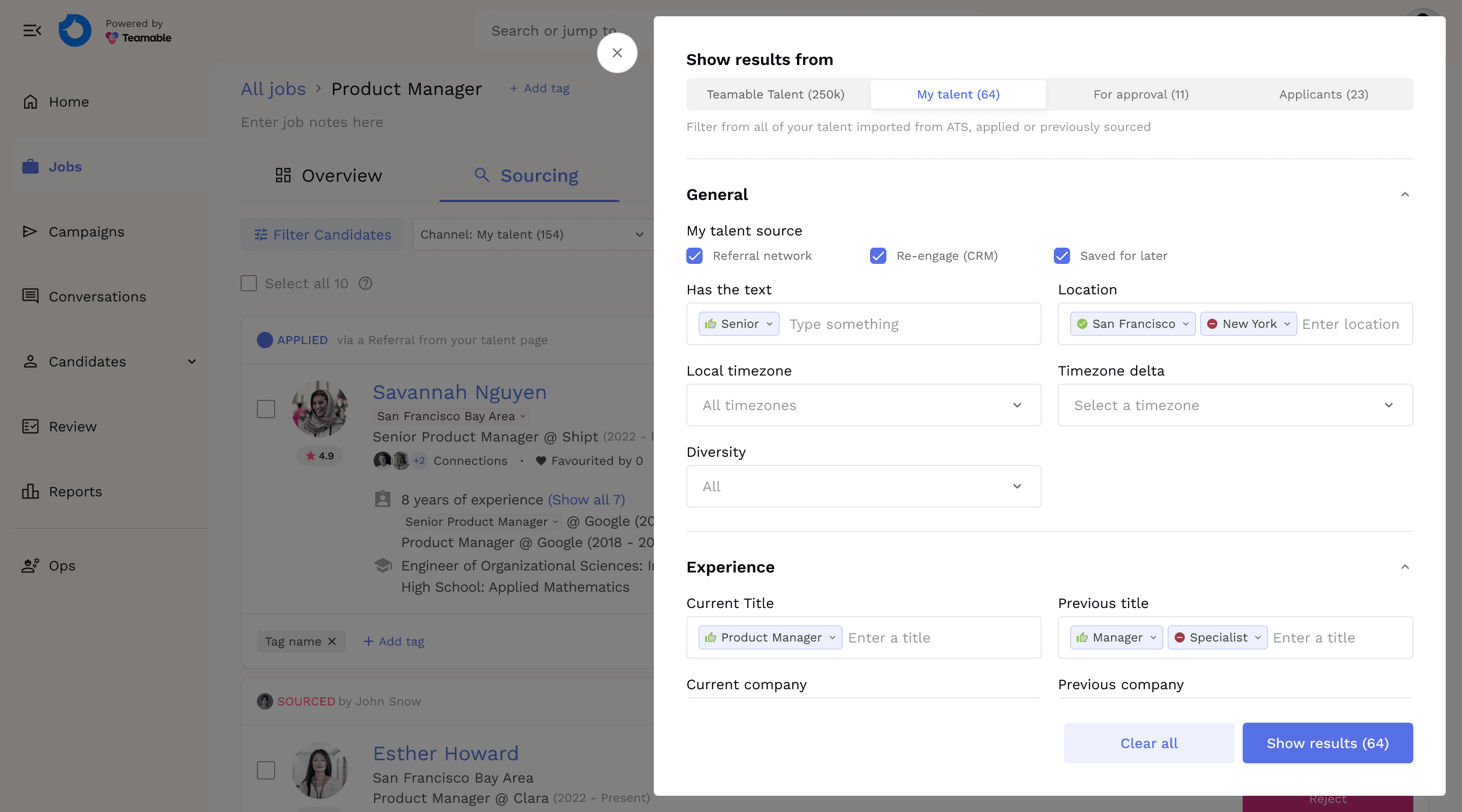 Send the right message, every time
Teamable AI crafts personalized messages that get replies. Using our insights from millions of messages and thousands of hires, we'll ensure your message resonates with candidates, every time.
Unique to the candidate

Leave generic outreach in the past. Tell each candidate exactly why you're excited to connect with them.

Unique to the role

Make your brand and voice clear by getting to the heart of why your company and the role is special.

Conversational AI Outreach

Teamable AI understands if someone is interested, needs to follow up after they get back from vacation, and everything in between.

Scheduling & conversational intelligence

We seamlessly handle replying to and scheduling candidates. If something needs your attention, our AI lets you know that too.
Success for companies at all stages
of companies have used Teamable to scale

1000+

Seamless two-way integrations with major ATS systems

40+

Candidates with AI enhanced profiles

500M+